Riad Abdel-Gawad released Words of Peace, Egypt: Mother of the World and El Tarab El Aseel which charted in the Top 10 in Zone Music Reporter  (ZMR) — the industry standard for New Age and World music genres.  His releases were on Pandora, Spotify, Itunes and Amazon and was distributed by City Hall Records. His musical art services include concerts, workshops and lectures and performs to and informs the global public about Arabic Music. Dr. Abdel-Gawad earned his PhD in music composition from Harvard University, yet he maintained and progressed with his professional life by performing as a street musician in France, Germany and Belgium. Honing his violin performing skills and getting hired for parties and cultural events, Riad was able to cultivate his musical art in public in Egypt, Lebanon, Europe, the United States and Canada.
Dr. Riad traveled to several African nations, including in the south of Cameroon deep into the Equatorial Rain Forest and all over Africa, including the Congo (DRC). He performed in international music festivals in Africa, Europe and the US, including the Chicago World Music Festival. He also performed at the House of Cultures of the World in Berlin, the Carnegie Hall Musical Exchange, The Egyptian Academy of Arts in Rome, and at the International Festival of Culture in the Pyrenees in Spain. He held teaching positions at Royal Brussels Conservatory, Claremont Theological School, Los Angeles Mission College, the American Universities in Cairo and Beirut and Harvard University.
Dr. Abdel-Gawad's provided his music for Democracy Now!, which utilized his music for a 2-hour special news program on the Egyptian Revolution of 2011. Dr. Abdel-Gawad was commissioned by the New Music Ensemble of Liège for the Ars Musica Festival in Belgium. Dr. Riad was also commissioned by Barclays Wealth in collaboration with the European Stradivari Society to practice and perform on Stradivari and Guarneri violins at the Islamic Museum of Qatar.
Riad plays violin (i.e. kaman in Arabic) and his own compositions with influences of Classical, Jazz, Arabic and Contemporary music. Dr. Abdel-Gawad also interprets the numerous classic pieces by Egyptian legendary accompanist to Oum Kalsoum: Abdo Dagher. The unique new music Sufi traditional instrumental compositions of Abdo Dagher is played by Riad Abdel-Gawad (violin, kaman). Riad Abdel-Gawad, long-time collaborator of Dagher, whose inimitable Sufi new, absolute instrumental music is obligatorly performed in a virtuosic manner and based on compositions transcribed as musical compositions alongside freely improvised passages. Recently, Riad was the guest of the Sawt Ensemble initiated by Samir Bendimered, artistic director, pianist and composer. The concert on November 20, 2021 was produced by Zoartmusic Productions Brussels for the festival: Bruxelles sur Scènes. Riad teaches violin as well as singing lessons. He applies the singing method of his master and collaborator Abdo Dagher who was an autodidact and worked in all of the musical fields of Egypt: folk, traditional, religious, classical. Dr. Riad lives in Brussels, Belgium and has established a variety of ensembles: a duo with contrabass, a quartet with nay, oud, percussion and violin. He is presently Choir Director at the Community Center of Chant d'Oiseux in Brussels. He also animates music sessions for the Jeunesses Musicales' Belgian public school program. He also gave a conference/masterclass on February 17, 2023 at the Royal Brussels Conservatory.
Harvard-trained, Riad Abdel-Gawad is former Executive Director of Egyptian Music and Culture Hub, which disseminated and educated the US public about Egyptian (Arabic) music. Dr. Abdel-Gawad (PhD from Harvard) worked with such musicians and composers as Samir Bendimered, Baudouin De Jaer, Tom Johnson, Frederic Lagnau, Martin Ingenhutt, Abdo Dagher, Khaled Dagher, Jan Rzewski, Francois Essindi, TJ Troy, Yousri Abdel-Maqsoud, and Mohamed Foda. Riad also collaborated with the Levantine Cultural Center, the Arab American Museum in Dearborn and performed at the Chicago World Music Festival. Additionally, he gave a groundbreaking online and live workshop and musical method training for the Carnegie Hall Musical Exchange. His workshop explored the Sufi Egyptian master musician, Dr. Riad was fortunate to attend many of Abdo Dagher's legendary saharat in the popular district of Hadayak el-Qobba in Cairo. Dr. Riad transcribed Dagher's maqam method — musical exercises, compositions and improvisations – which helped scores of accomplished musicians learn this authentically Egyptian, new music. Dagher was a legendary accompanist on recordings with the great Oum Kalsoum. As well, three Arab women artists contributed to Riad's CD album art: Ezmeralda, Carelle Homsy, and Behia Shehab for the albums: Egypt: Mother of the World and Words of Peace. Earlier, El Tarab El Aseel, was initially released on the ME Incognito Label of CD-Theque of Beirut; then, distributed by City Hall Records in San Rafael, California. Dr. Abdel-Gawad was commissioned by the New Music Ensemble of Liège for the Ars Musica Festival in Belgium. Last, he was also engaged to perform in collaboration with Eduard Wolfson of the European Division of the Stradivarius Society, with Lawrence Assadourian of Middle East Stradivarius, and through Barclays Wealth to perform in a special concert for the Ministry on Stradivari and Guarneri violins at the Islamic Museum of Qatar.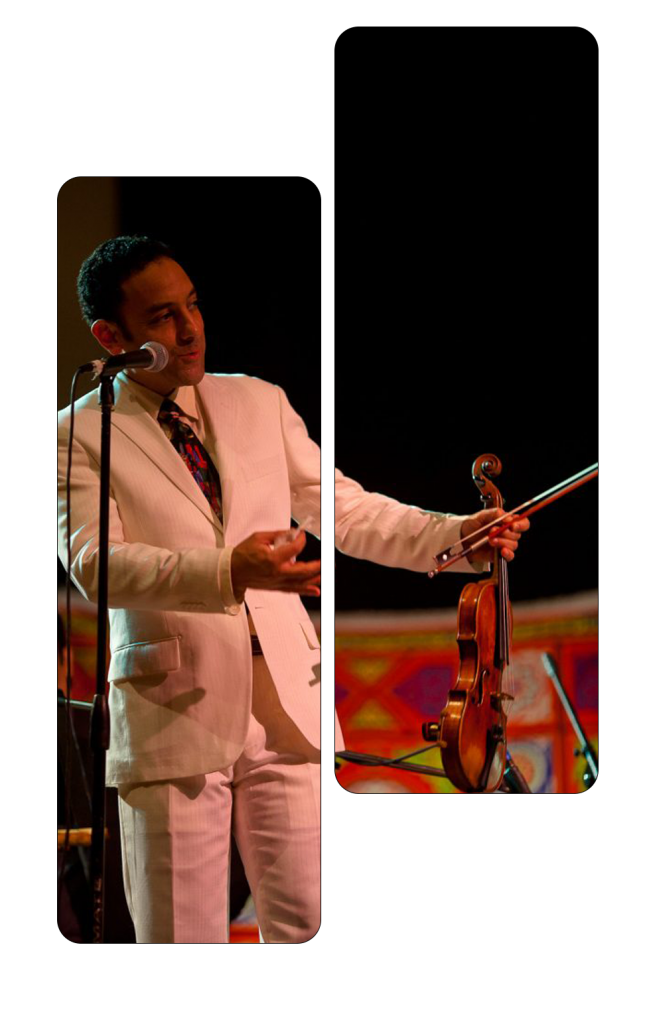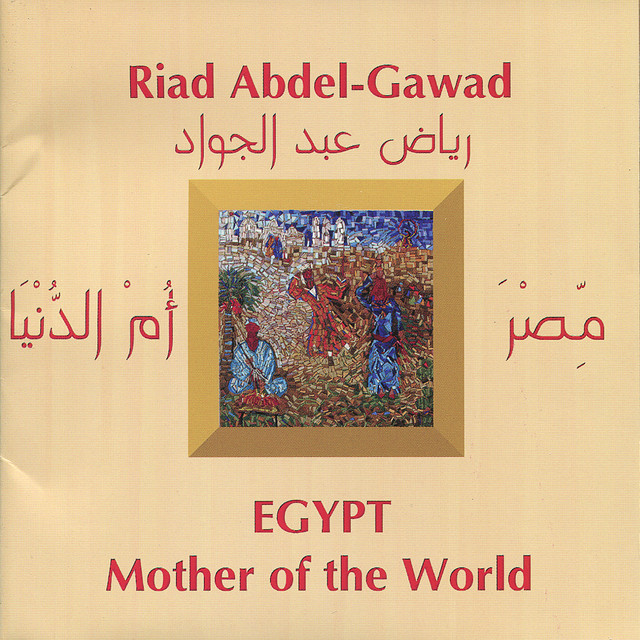 Egypt - Mother Of The World